A 26-year resident of Santa Cruz County, I am a proud graduate of Cabrillo College. Since graduating Cabrillo in 2002, I've worked locally as a nonprofit director and as senior staff in state and county government. I'm currently a Senior Human Services Analyst for the County of Santa Cruz, administering $10 million in child-welfare, housing support and employment services contracts with local nonprofit and community partners. My knowledge of state and local finances and strong budgeting skills have helped me elevate the department's ability to be fiscally sound and strategic. My work furthers the agency's collective impact to reduce poverty and child endangerment, and helps attain child safety and adult self-sufficiency for the community we serve.
Before working for the County, I spent seven years as senior district staff to two state lawmakers—Senate Majority Leader Bill Monning and former Assemblymember (current CA Secretary of Natural Resources) John Laird. In this role I assisted individuals and agencies on local and state policy and budget issues relating to K-12 and higher education, healthcare, social services, civil rights, housing, seniors, labor and public safety.
Prior to working in government, I spent nearly 14 years as a leader in early childhood education, as the Director of Simcha Preschool at Temple Beth El in Aptos, and as Head Teacher for the Children's Center of the San Lorenzo Valley in Ben Lomond.
As a Cabrillo student, I held my first volunteer job at the Rosmarie Greiner Children's Peace & Anti-bias Library at the college. I am also a recent former Board President of the Diversity Center, a current elected member of the Santa Cruz County Democratic Party, a City of Santa Cruz Equal Employment Opportunity Commission Appointee, and Communications Secretary for the GLBT Alliance of Santa Cruz County.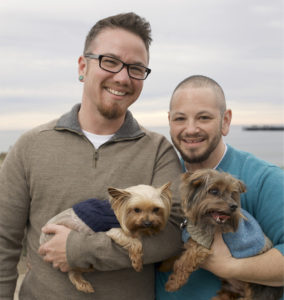 I live by the Santa Cruz Harbor with my husband Scott, a medical assistant for Planned Parenthood. Scott is a former Bay Area paramedic, and a talented local artist. We live with our 2 dogs, Penny and Jack, next to Schwan Lake. We love to spend time with friends, walk the dogs to the beach or the Harbor, and go to the Live Oak Farmers Market on Sundays.
My background also includes:
EDUCATION
Leadership Santa Cruz | Class 28 | 2012-13

Inside Education | Santa Cruz County Office of Education | 2010-11

Associate Degree with Honors | Cabrillo College | 2002
ASSOCIATIONS
City Council Appointee, Santa Cruz Equal Employment Opportunity Commission

Communications Secretary, GLBT Alliance of Santa Cruz County

Member, Santa Cruz County Democratic Party

Leadership Council Member, Smart Solutions to Homelessness Santa Cruz

Steering Committee, Community Assessment Project of Santa Cruz, CA

Past Member, Affirmative Action Committee for the California Democratic Party

Past Board Member and Two-Term President, Diversity Center of Santa Cruz

Past Member, Children's Network of Santa Cruz County

Past Member, Santa Cruz County School Board Association

Past Member, Child Care Planning Council

Past Commissioner, Santa Cruz County Women's Commission